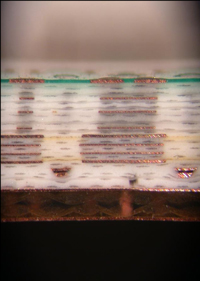 Our company has been produced PCBs for more than 10 years for different areas such as military-industrial complex, transport, mining and processing enterprises, systems for the automated management, production of medical equipment and home appliances. Such variety of areas, where we can apply our high-tech products justified by their quality and wide range.
We sell printed circuit boards on a metal base, and not only them, also with varying degrees of stiffness: flexible, rigid, and combined. The manufacturing process is carried out by taking into account of engineering and technological parameters, calculations.  We use materials that are not susceptible to oxidation processes, and involved technologies make it possible to drill the holes accurately and to create the necessary circuits. The cost of all the items is available to any user, not only to wholesale customer.  The prices are without extra charge because of our own productions. You can even buy printed circuit boards on aluminum base and others with competitive prices.
PCB production has the following main features:
Number of layers: for about  40
PCB Size: 1 000 mm *609 mm
The maximum thickness of the PCB: 8 mm
The minimum thickness of the printed circuit board: 0,3 mm
The maximum thickness of the copper (inner layer): 12 Oz
The maximum thickness of the copper (outer layer): 12 Oz
The minimum width of the conductor / gap: 0,07 mm / 0,07 mm
The minimum hole diameter (CNN): 0,1 mm
The minimum hole diameter (Laser): 0,07 mm
Aspect ratio: 15: 1
Precision of impedance control: + -5%
Embedded Capacitors: yes
Embedded resistors: yes
Blind and hidden vias
Tenting vias with  liquid solder mask
Tenting vias with conductive paste
Metallization of  ends
Due to these finish it is  possible to achieve high-quality products, their strength and full compliance with customer requirements.
We carry out the production of PCB, MCPB, microwave printed circuit boards and others for order studying the documentation of the client in detail. We realize projects of any complexity, because we have available production, equipped according to the latest technical requirements.
We have an impressive practice of manufacturing electronics and component to it, including the design, manufacture, assembly and testing of finished products. Issue boards of different types is one of the most successful areas of our business, in combination with electronics manufacturing on a contract basis. Therefore, we carry out the whole cycle of works: from studying the documentation of the customer to designing and testing. Our products and components are in demand in various areas, and the company is constantly expanding markets.