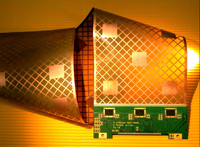 Our experience and knowledge of the technological features allow us to say that any of your projects, it doesn't matter how high-tech they are (using shells mBGA, Flip-Chip, CSP, etc.), we are implementing with the highest quality in the shortest possible time.
It is also possible to carry out tests to check the soldering quality by optical and capacitive methods (OpenFix). If necessary, we can conduct the X-ray control of installation of the components with documentary evidence.
For that named modules of «responsible» using or for heavy operating conditions, we can offer moisture protection of modules (silicone, acrylic and urethane composition, and also polyparaxylene coverings).
It is also possible to manufacture the modules and devices in metal and plastic cases (including 'hard' operating conditions), front panels with drawings, including colorful. We can offer services for the production of machining of partial shells using mathematical models.
For our customers we can perform the assembly of wire harnesses and cables, or choose the analogue from the existing range. As a result, you will get finished and packaged product, you need only to place it on the target system or sent to retail outlets.